Check Disneyland Park Hours Online
Get To Check Disneyland Park Hours And More
Would you not like to visit the wonderland of Disneyland and meet your favorite characters? Of course, it's a yes! Meeting Winnie the Pooh, Mickey mouse, then why not visit Captain Jack Sparrow speaking in pirate tongue and many more. All of it will give you the whole day fun, and if you are visiting with your kids, they will be thrilled!
There will a lot of themed lands you can visit here. For example, you can have fun at Tomorrowland or Fantasyland in Disneyland Park.
If you want adventures at Pixar Pier and Cars Land, Disney California Adventure Park will let you enjoy them. Further, Disneyland also offers some interesting places for shopping Disney's merchandise, having meals, taking spa time, watching live entertainment, enjoying parades, and some other attractions. However, you should visit this place during Disneyland Hours. After the hour's end, all areas of Disneyland must be free of any visitors.
You must know some important information about Disneyland Hours. This way, you can plan how long you can visit the place during Disneyland Hours Of Operation. Moreover, you may need to know about its schedule during the holiday, right? Don't worry because this article will provide the details about the regular operation hours of Disneyland and its schedule on holiday. For that reason check the following and never miss the exciting visit to Disneyland.
Disneyland isn't just for the kids, but it's a huge place for adults to have fun too. This is a theme park in the United States and famous for its interesting concepts of Disney's characters and fairy tales. Disneyland is located in the Disneyland Resort in Anaheim, California. The idea of building Disneyland came up when Walt Disney went to Griffith Park with his two daughters. He imagined a fun place where adults and kids might have a good time together.
In 1953, Walt Disney decided to buy a 160-acre site full of walnut trees and orange groves in Anaheim, California. In 1954, he started the construction of this park. He needed $17 million to finish it. The opening day was held in 1955 and broadcasted live by ABC TV Network. At that time, it had Main Street, U.S.A., Frontierland, Adventureland, Tomorrowland, and Fantasyland. Then, it opened New Orleans Square in 1966, Critter Country in 1972, Mickey's Toontown in 1993, and Star Wars: Galaxy's Edge in 2019.
Operated by Disneyland Resort, this complex will let visitors to enjoy 2 great theme parks. The first is Disneyland Park with its 9 themed lands, from Main Street, U.S.A., up to Star Wars: Galaxy's Edge. The second is Disney California Adventure Park where visitors may learn the culture and history of California.
Unveiled in 2001, Disney California Adventure Park now has 8 themed lands, including Buena Vista Street, Paradise Gardens Park, Pixar Pier, Grizzly Peak, Cars Land, Hollywood Land, Pacific Wharf, and Future expansion. Moreover, there are more destinations available in this complex, such as Downtown Disney, World of Disney, Napa Rose, Trader Sam's Enchanted Tiki Bar, and Disneyland Monorail System. And if visitors need some places to stay, they can visit the Disneyland Hotel, Disney's Paradise Pier Hotel, and Disney's Grand Californian Hotel & Spa.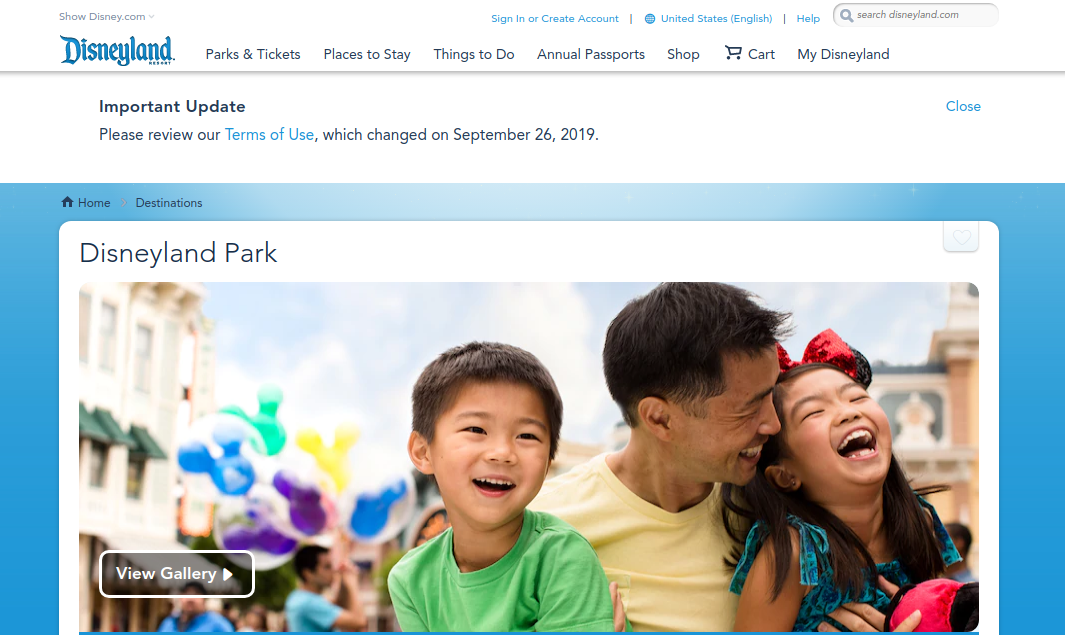 Various Disneyland Locations
Disneyland Resort also has some cooperation with other places in the world to provide happy places outside of Anaheim, California. So far, there have been 5 other locations where Disneyland Resort is operating theme parks like Disneyland. The locations include:
This is the first Disneyland built outside of the United States. It was open in 1983 in Urayasu, Chiba. It has Tokyo Disneyland inside its area. This resort is operated by The Oriental Land Company with the license of The Walt Disney Company.
This resort was open in 2016. the location of Shanghai Disneyland Park is in Pudong District, Shanghai.
Hong Kong Disneyland Resort
The second Disneyland opened in Asia is situated in Pennys Bay, Lantau Island. Hong Kong International Theme Parks has operated this resort since 2005. It is a joint company of the Government of Hong Kong and The Walt Disney Company.
This resort was open in 1992 and named Euro Disney Resort. It is situated in Marne-la-Vallée, a suburb place in Paris, France. This resort is completely owned by The Walt Disney Company.
This is the second Disneyland built in the United States. Opened in 1971, the location is in Lake Buena Vista Florida. It has the Magic Kingdom theme park inside the area. Currently, there are some destinations available in The Walt Disney World, such as Epcot, Disney's Typhoon Lagoon, Disney's Blizzard Beach, Disney's Animal Kingdom, Disney Springs, 8 golf courses, 21 resort hotels, and more fun places to visit.
Disneyland Hours
The management team is really strict about the operation hours to keep the quality of any attractions at the parks. Disneyland Resort is divided into several areas. So, the hours of operation can be different for each Disneyland part. To make you understand about Disneyland Open Hours, you can pay attention to the following timetables,
Monday to Sunday from, 8 am to 11 pm.
Disney California Adventure Park
Monday to Sunday from 8 am to 10 pm
Monday to Sunday from 7 am to 2 am
Disneyland provides special schedule for its additional attractions. If you plan to enjoy the attractions, you have to check the schedule below.
This special hour is only for registered Hotel Guests of Disneyland Resort. They will be able to enjoy attractions and do more interesting things in the park for an hour before the park is open. This hour is only available at 07.00 a.m. up to 08.00 a.m. on particular days.
Guests of Disneyland Resort who got tickets for more than 3 days are able to have a good time at the park an hour before the park is open. It is available only for special days only at 07.00 a.m. up to 08.00 a.m.
This festival will let visitors enjoy the celebration with much entertainment, food, etc. the schedule for Día de Los Muertos starts at 10.30 a.m. until 09.00 p.m. from September 6th to November 3rd.
This celebration will also last from September 6th until November 3rd. you can involve in this festival at 08.00 a.m. up to 10.00 p.m.
Disneyland Holiday Hours
Disneyland is open every day. You won't find one day this place is closed. This is because the holidays are the best time when kids and parents get time to visit this place.
Pre-Arrival Tips For Disneyland
You have to plan the date you want to visit Disneyland. Perhaps, you want to go there on the regular day or seasonal days. If you want to get a different experience, you can go to Disneyland during the seasonal holidays. For instance, you may go there during Halloween, Lunar New Year, or other seasonal events.
Learn about the Disneyland Hours
Here, you need to check the park hours including the showtimes. This way, you can find out the time when the entertainment show begins. For instance, you may want to watch the firework or parade.
Make some arrangements as soon as possible
Before you visit Disneyland, you have to make the reservation in Disneyland hotels and restaurant. Also, you may need to purchase Disneyland Merchandise to make you more stylish when you visit this park. For instance, you may buy a T-shirt or hat.
Browse for discount and special offer
To save your vacation budget, you have to search for a discount at the Disneyland website.
Download Disneyland Mobile App
This very application will guide you when you are at this park. You can locate the Disney characters, browse the maps, redeem digital Disney FASTPASS.
Info on Disneyland
Disneyland is open from 8 AM up to 11 PM. But, during Disneyland annual 24 hour party, Disneyland & Disney California Adventure and Walt Disney World's Magic Kingdom are open 24 hours. You can enjoy playing there from 6 AM up to 6 AM.

Mickey and friends parking lot is open 90 minutes before the Disneyland Park opens. So, if the Disneyland regular park opening is at 8 AM, the parking area will open at 6.30 AM.

If you want to avoid crowded at Disneyland, you have to visit this theme park during these least busy days. First, you can go there in the first week of January up to the middle of February. Then, you also may go there during the third Tuesday of February to the Middle of March. Also, the least busy days happen at the middle of April through the third week of May.

The Disneyland Fireworks show begins at 9.30 PM. The duration of the showtime may vary. But, usually, the firework show lasts about 20 minutes.

The Disneyland Park ticket booth is open one hour before the park opens. Then, it will close one hour after the park is closed. So, if the Disneyland hours are open at 8 AM, the ticket booth will be stand by at 7 AM.

Disneyland management allows visitors to bring food and drink. But, there are some exceptions for this rule. First, the food which is allowed is the snack items. Besides, you can bring the beverage if this drink is not in the glass container. Furthermore, food and drink are allowed if they do not require heating.

The best parking area depends on the place you come from. It will better to learn where to park so that you can enter Disneyland in a convenient way. For your information, the biggest parking area at Disneyland is Mickey and Friends garage. This parking lot is located on the northwest corner of Disneyland. Perhaps, this parking area is the best place to park your vehicle if you come from the South of the US.

If you want to avoid the long lines at Disneyland, you can do the following tips. First, you have to purchase the tickets before you go to this park. Second, you have to stand by on the location before the Disneyland hours opening time. Besides, you have to get into the park one hour early.
Also Read : Check Page Plus Hours Online
Contact help
Disneyland is a huge place, and you can always feel the need to contact the place for various reasons and for that you will get some useful phone numbers:
Dining Reservations: 714 781 DINE or 714 781 3463.

Annual Passholders: 714 781 PASS or 714 781 7277.

Website Support: 714 520 6222.

Vacation Packages: 714 520 5060.

Tickets: 714 781 4636.

Guest Information: 714 781 INFO or 714 7814636.

PhotoPass Guest Support: 714 520 7106.

Merchandise Guest Services: 877 560 6477.

Disability Services: 407 560 2547.
Or you can send a mail to, 1460 South Harbor Boulevard
Disneyland Resort 1460 South Harbor Boulevard
Anaheim, California, 92802
The United States.
Reference :
disneyland.disney.go.com/destinations/disneyland/